I got this fabric at the
National City Swap Meet
. My favorite. You know I love that place. I actually got this fabric from my first trip and I got around to making something from it. I have this
pink tunic
dress that I wore in the first 24 day challenge and I wanted to make something similar. It's such a comfortable style dress.
I made a chevron in the front. It wasn't as hard as I thought it would be! When I tried to do it before I couldn't understand why it was so difficult. Then I realized that when I cut it on the bias, I was trying to pin it back together...not form a chevron but just regular stripes. DUH! Ha
I did horizontal stripes in the back.
(want to look at my butt? I know you do.)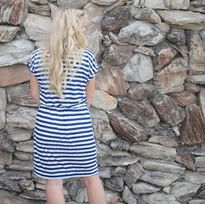 I bound the sleeves and neckline in bias strips I made.
It was easy. And my husband said that's his favorite part. :)
And just for fun because I'm into these right
now and I think they are hilarious: